Kindred Spirits
With decades of experience and a warm, welcoming clinic, both you and your pet will feel right at home.
The Power of Pets
At Kindred Spirits Veterinary Hospital, we are guided and inspired by the power and beauty of the human-animal bond. This bond informs our approach, gives energy, and reminds us daily to honour our patients and their people as we care for them.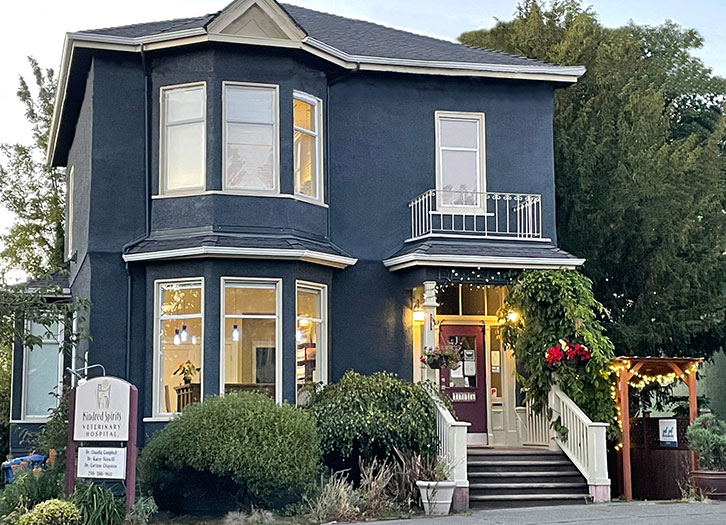 Kindred Spirits
As you enter the door our friendly and caring staff strive to help you and your pets feel at home and at ease. Our hospital — located in a 100+ year-old character house with fireplace, bay windows, and cushioned benches — is a warm, bright and comfortable space.
Our veterinarians, with decades of combined experience, are pleased to provide a broad array of veterinary services — from modern Western medicine, surgery, and dentistry to integrative therapies including Acupuncture and Chiropractic.
Contact us to find out more about Kindred Spirits.

"Both our cat and dog have been cared for at Kindred Spirits. We've met all 3 veterinarians and have received exceptional, attentive care from all of them. I feel fortunate to have found these wonderful people. Their care is kind gentle and holistic. Our dog loves going there!! The cat - not so much - but then, he's a cat - and anything involving a crate is distressing. However, once he's there he's calm and cooperative, which is a testament to all the animal whisperers at Kindred Spirits. The reception staff are wonderful too. HIGHLY recommend!"

Ruth Mogensen
"Always appreciate the kind, compassionate and patient vets. I never feel rushed or pushed into decisions. They are thoughtful, honest and knowledgeable. We regularly see Dr. Chapman and both of my rescue dogs love her. They run up the stairs to the clinic and are thrilled to be at the vet. I especially love the holistic approach to veterinarian care and the diverse options offered."

Caylee Maclean
"My numerous cats and dogs throughout the years have been cared for by Dr. Campbell and team for approximately 20 years! I have always had complete confidence in Dr. Claudia, who goes out of her way to explain things related to my pets. Over so many years there have been changes in staff, although Tracy and Judy have been there since the first time I went to Kindred Spirits. The atmosphere in Kindred Spirits is gentle and caring. I would never entrust my beloved pets to any other veterinarian."

Judith Branion
"This animal hospital is amazing. Have been taking my dog there for the past 6 years. They are kind, compassionate and take extremely good care of her. They don't recommend services I don't need, and I think the prices are incredibly fair, especially for Victoria. Have never had a single negative experience here. All of the doctors I've had appointments with have been SO NICE!"

Rochelle Roberts